2011 Events
February 2011

The Canadian Friends of Finland present
Under the North Star
(Taalla Pohjantahden Alla)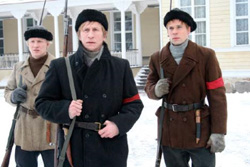 Directed by
TIMO KOIVUSALO
Based on the novel by
VAINO LINNA
 2009 Drama
English subtitles
Duration: 180 minutes
Under The North Star is the internationally renowned film based on the classic Finnish novel by Vaino Liina.
The film is based on the first two novels of a trilogy and traces the life of Akseli Koskela, a son of a parsonage crofter during the turbulent years up to and including the Finnish Civil War.
---
 June 2011
You are cordially invited to the 30th Annual General Meeting of the Canadian Friends of Finland
 Program:
7:00 p.m. Agenda for the Annual Meeting as stipulated in the By-Laws
7:30 p.m. The speaker will be Mr Petri Kruuti, the Minister-Counsellor (Political Affairs, Economy and Trade) at the Embassy of Finland in Ottawa.
Refreshments will be provided.
Time: Wednesday, June 8, 2011 at 7p.m.
University College, Room 179, University of Toronto, 15 King's College Circle, Toronto
---
 October 2011
 The Canadian Friends of Finland invite you to attend the second
Varpu Lindström Lecture
delivered by
Marianne Wargelin
Honorary Consul for Finland, Minneapolis / St Paul
Tuesday October 11, 2011 at 7PM
University Of Toronto, St. Michael's College, Charbonnel Lounge, Elmsley Hall, 81 St Mary St., Toronto
Marianne Wargelin will speak on "My grandmother had a sister who left for America" – a Women's History creating the Vanguard for a Finnish North American History.
Marianne Wargelin is a Researcher and Educator in Cultural History, focusing on the Finnish-American experience. Marianne has a graduate degree from the University of Michigan (MA) and is currently completing her PhD thesis at the University of Tampere. She is the Honorary Consul for Finland in Minneapolis/St Paul and is the President of FinnFest USA (since 2004). She is also the co-author of "Women Who Dared: The History of Finnish American Women".
The Varpu Lindström lecture has been established to recognize the dedication and contribution that Varpu Lindstrom has made over a 31 year period to the Canadian/Finnish community across Canada.
Please RSVP by email (please include your name, phone number and number of tickets) or by phone at 416 730-8350.
This event is free.
All are welcome.
Refreshments will be served.
---
Canadian Friends of Finland present Steam of Life (Miesten Vuoro)
Directed by Joonas Berghall & Mika Hotakainen
2010 Documentary
English subtitles
81 minutes
Joonas Berghall and his co-director Mika Hotakainen interviewed a dozen Finnish men as they sat in saunas and steam rooms, opening up to each other and the filmmaker team. The documentary is about Finnish men in the sauna speaking straight from the heart. The stories they tell are often heartbreaking, and you can feel that they are words that are rarely spoken.
Tuesday, October 25, 2011 at 7 pm.
Town Hall, Innis College,
University of Toronto, St George & Sussex, @ St George Subway.
---
Saturday, November 19th, 2011 1 – 4pm
The seminar will be presented by Rick Phillips, former host and producer of CBC radio's Sound Advice, the weekly guide to Classical music and recordings. Using recordings, Rick will explore the magical world of the Sibelius Violin Concerto and his incidental music to Shakespeare's play, The Tempest.
Although it took years to be fully appreciated, the Sibelius Violin Concerto is now standard concert repertoire-a concerto like no other in its expression, passion and emotion. Sibelius composed music to accompany theatre productions throughout his life, often winning greater accolades than the productions themselves. He had a gift for mood painting and character portraits in music. When the incidental music for Shakespeare's the Tempest was first heard in 1925, a critic claimed: "Shakespeare and Sibelius" the two geniuses have finally found one another!"
Please take this opportunity to add to your musical knowledge and enhance your enjoyment of great music by one of the world's great composers.
 $25.00 for CFF members, $35.00 for non-members
Location:
Women's Art Association of Canada
23 Prince Arthur Ave., Toronto
(near Avenue Rd. and Bloor Streets)
For more information or to register:
call Ron Walenius: 416-483-5645; or
email (please include your name, phone number and number of tickets)
Refreshments will be served.
---
 December
Canadian Friends of Finland Education Foundation presents
 A Celebration of Finnish Independence, a Piano Performance, some authentic Finnish food & the Launch of our Unique Lives Series.
Monday December 5, 2011 7-10 pm.
(Yes, we know that December 6 is Independence Day but it will be December 6 in Finland when we start our celebration)
PROGRAM:
7 pm. Conversation, drinks (cash bar) and an array of Finnish finger foods (including piirakka)
7:55 pm Bar closes
8 pm Piano performance by Heidi Saario.
Heidi will include her wonderful interpretation of Finlandia in her performance.
8:30 pm Katri West will launch our Unique Lives series.
Katri is a pharmacist, is married to Gordon whom she met during a Hart House Exchange in Finland and is the recently retired recording secretary of CFF, a position she held for almost 30 years. Katri's grandfather lived in Helsinki when it was a Swedish/Russian speaking city!
9:00 Bar reopens
10:00 Bar closes
Please take this opportunity to celebrate the 94th year of Finnish Independence. Please note, because of space limitations this event will be limited to 60 people.
 Cost: $25.00 per person (includes food)
Donations to CFFEF will be welcome
Location:
Women's Art Association of Canada
23 Prince Arthur Ave., Toronto
(near Avenue Rd. and Bloor Streets)
Subway:
St. George Station, Bedford St. exit
For more information or to register:
call Ron Walenius: 416-483-5645; or
email (please include your name, phone number and number of tickets)
Refreshments will be served.
Dress: business casual (national costume welcome)