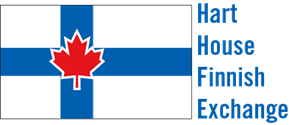 The Hart House Finnish Exchange Program – that operates between the University of Toronto and a number of Finnish universities – is looking for summer jobs for Finnish university students in the Toronto area for a period of 10 weeks commencing June 8, 2015.
There are no set criteria for the jobs. All opportunities, from full-time jobs in a corporate environment to part-time, evening or weekend positions in customer service are welcome and greatly appreciated. The suggested salary is $12+/hour. Work permits and SINs will be arranged by the Exchange Program.
For more information and for individual CVs of the students, please contact the Program Coordinator (and Finnish Exchange Program alumnus), Tim Stephenson, at 647-774-1719 or timjstephenson@gmail.com.
About the Students:
The students are undergraduate or Masters students from various fields, including business, arts and design, sciences and humanities. All speak excellent English, and many have knowledge of other languages, including Swedish, French, German or Spanish. They have broad work and extra-curricular experiences, and many have international experience through work or student exchange programs.
About Hart House Finnish Exchange:
For more information about Hart House Finnish Exchange, please click to see their website.