November 28, 2012
Stars Above
(tähtitaivas talon yllä)
Director: Saara Cantell
Duration: 101 min
Finnish with English subtitles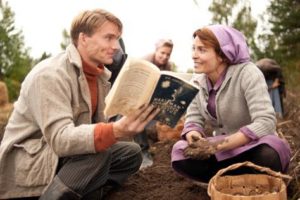 STARS ABOVE follows the stories of three women from the same family across three different decades. The main characters – Saima (Irina Björklund), Tuulikki (Meri Nenonen
) and Salla (Elin Petersdottir) – each live in the same country house. Saima´s story takes place in the war time 1942, when Finland fought against Soviet Union, Tuulikki´s story in colourful year 1978 and Salla´s story in the present day. Each woman is between 30 and 40. 
This deep and beautiful, yet humorous film, pictures the encounters between people and the possibilities for choice. How much does the time we live in affect us – and our ability to hold on to our dreams? What are those things which we pass on from one generation to the next? What changes, what remains the same? And to what extent do mothers´ choices, let alone their unspoken secrets, affect their daughters´ lives?
Time: 7:00 PM
Venue: Town Hall, St. George & Sussex.
[mappress mapid="4″]
Parking Across from Innis College on east side of St. George under the Rotman School.
Ticket information:
Please reserve tickets in advance (for pick up at the door)
CFF members $10 | non-members $12
Leave message (name, phone number and number of tickets)
by phone: 416-730-8350
by email: tickets@cff.ca
Buy tickets online: