CFF is pleased to promote: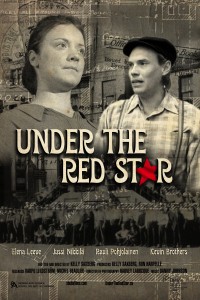 Under the Red Star is a feature length docu-drama, in Finnish and English, about the vibrant culture and politics at the heart of Canada's largest labour hall.  In 1910, Finnish immigrants built the Finnish Labour Temple in Port Arthur, Ontario (now Thunder Bay). In its early days it was inseparably linked to the activities of Canadian labour and the left. The Big Finn Hall was a place where culture and politics came together. This film integrates archival footage, photos and fictionalized scenes to bring to life the lively and dramatic past of the early years of Finnish immigration to Canada. Under the Red Star tells the story of the struggle for a just society in the early twentieth century Canada. 79 minutes. 2011
Big Picture Cinema
Wednesday October 16, 7:30pm
Kelly Saxberg will be in attendance.
Tickets are $15
Located at:
1035 Gerrard St East
Toronto, Ontario, Canada.
M4M 1Z6
T 416 466 3636
[mappress mapid="21″]
This is not a CFF event.